Hawaii Kai Veterinary Clinic is proud to serve Honolulu, HI and surrounding areas. We are dedicated to providing the highest level of veterinary medicine along with friendly, compassionate service. Our team of veterinarians see many different species ranging from birds, reptiles and rodents!
We believe in treating every patient as if they were our own pet, and giving them the same loving attention and care. We are a group of highly trained, experienced animal lovers who are devoted to giving our patients the best care possible.
DR. JOHN K KAYA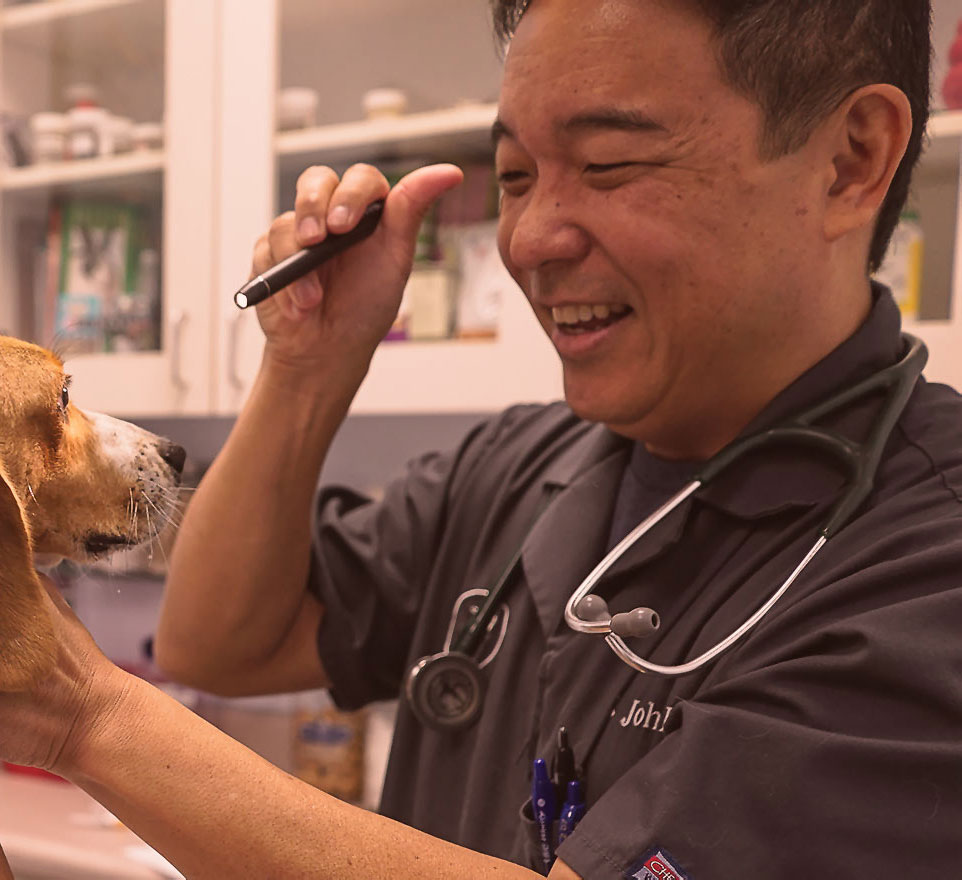 Dr. John Kaya is a graduate of Moanalua High School. He graduated from the University of Hawaii with a Bachelor of Education in 1989, then graduated from University of Minnesota with his Doctorate of Veterinary Medicine in 1999. During Veterinary school, Dr. Kaya did an externship at the San Diego Zoo fostering his interest in exotic animal medicine. He currently treats dogs, cats, rabbits, chinchillas, guinea pigs, rats, mice, Jackson chameleons, turtles, and birds. On occasion, he has even seen goats, penguins, and flamingos.
Dr. Kaya is a member of the American Veterinary Medical Association, Hawaii Veterinary Medical Association, Association of Reptilian and Amphibian Veterinarians, and the Association of Exotic Mammal Veterinarians. He is also a former Chairperson of the Board of Veterinary Medical Examiners for the state of Hawaii.
Besides working in the hospital, Dr. Kaya has been very active in the community. He has visited schools educating children on proper pet care, was a fixture on the KHON morning news pet segment, and wrote articles for our local MidWeek newspaper. In his free time, Dr. Kaya enjoys basketball, skin diving, and singing karaoke with his friends and family. He loves spending time with his wife Jan and two children, Jada and Jake. Dr. Kaya's immediate family includes two Pomeranians, Eevee and Arya, and a turtle named Lil' Dude.
---
DR. ANN M. SAKAMOTO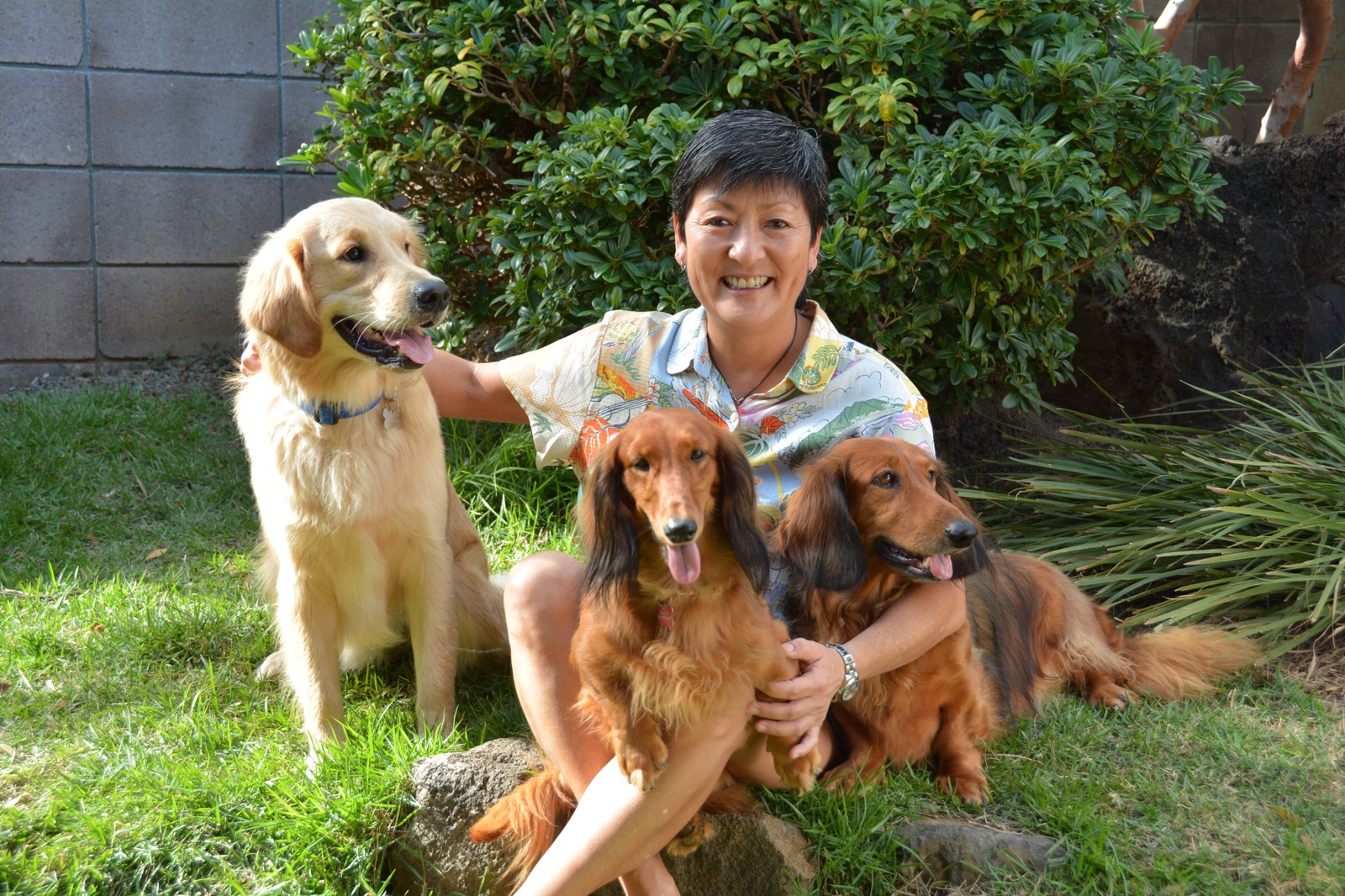 Dr. Ann Sakamoto is a graduate of Punahou School. She obtained her Bachelors Degree in Zoology from the University of Hawaii and her Doctor of Veterinary Medicine degree from the University of Minnesota. At the University of Minnesota, she received the Caleb Dorr Award, the Class of 1960 Memorial Scholarship and the Dr. Winton G. Evans Scholarship Award for her academic achievement. She also received the Rupert memorial Scholarship for her special sensitivity to the care of older dogs.
Dr. Sakamoto is a General Practitioner and has practiced in Kaneohe for the past 14 years. Prior to that, she practiced veterinary medicine for a year in Honolulu and was a zoo animal keeper at the Honolulu Zoo for eight years.
Dr. Sakamoto is currently a member of the American Veterinary Medical Association. Her past times include fishing and spending time with her four-legged kids.
---
DR. ALLISON P. ONG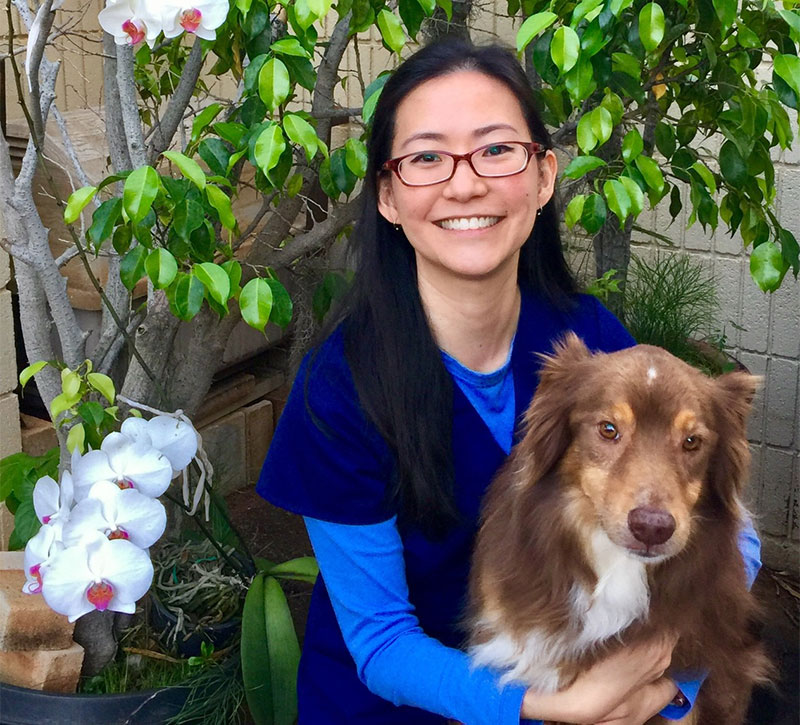 Dr. Allison Ong was born and raised in Honolulu, growing up in Kaimuki. Her fascination and love for animals started from a young age when a stray cockatiel, her first rescue pet, randomly crash-landed on her family's car. This ignited a penchant for bringing home any vagrant animal she encountered, thus building a diverse rotating menagerie that spanned her developing years. She grew up with rabbits, lovebirds, cockatiels, quails, Jackson chameleons, mice, turtles, dogs, chickens, fish, and a cat.
After graduating from Kalani High School, Dr. Ong majored in Animal Science and Zoology at the University of Hawaii. Taking a break from the world of academia, Dr. Ong worked for several years at the University of Hawaii and at Tripler Army Medical Center doing research before deciding to pursue her veterinary degree at Colorado State University. After completing veterinary school, she moved to California where she received further training from professionals in Internal Medicine, Dermatology, Neurology, Cardiology, Oncology, and Surgery at VCA San Francisco Veterinary Specialists. She worked as a relief veterinarian in California and worked an additional 4 years as a general practitioner in Hawaii before becoming a part of the Hawaii Kai Veterinary Clinic family in 2016.
Dr. Ong enjoys traveling in her spare time and delights in learning about different cultures and their cuisines. Her professional interests include Dermatology, Ophthalmology, and Geriatric Care. Dr. Ong believes that all creatures need the love and support that a home can provide. She embraces this philosophy that was forged in childhood by continuing to share her home with various rescue animals – Pickles, a serious mini Australian Shepherd; Lemon Mitts, a mischievous little kitty; Monster, a cheeky lovebird; and two sweet Zebra Doves, Pig Pig and Mini Pig.
---
DR. LEIANNE LEE LOY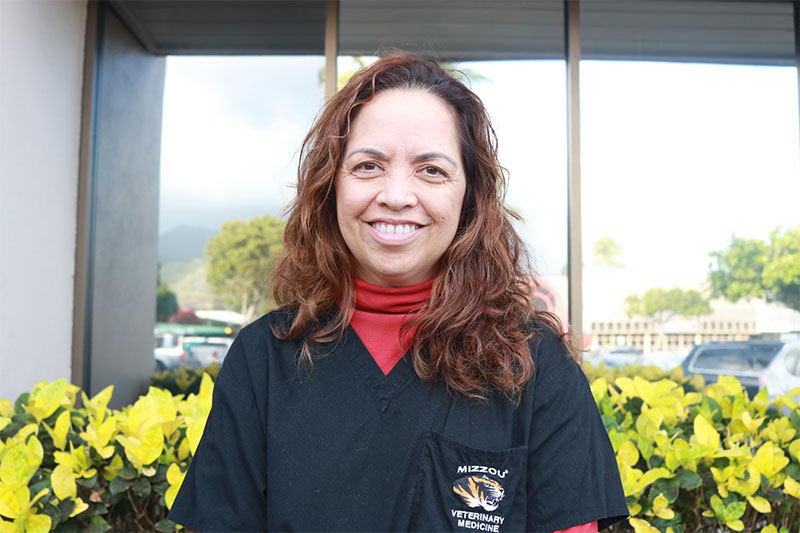 We're excited to announce Dr. Leianne Lee Loy has joined the team April 1st, 2017! She is coming to us from VCA University.
Full biography coming soon!
---
Dr. Eric Ako
Dr. Eric Ako is the newest addition to our Hawaii Kai Vet Clinic family. He was the previous owner at The Pet Doctor and treats a variety of animal species including dogs, cats, birds, guinea pigs, and rabbits. Dr. Ako attended the University of Hawaii in Manoa where he received his bachelor's degree in Animal Science before going on to vet school at Purdue University. Dr. Ako worked at several vet practices as an associate veterinarian before opening and founding The Pet Doctor where he remained for over 16 years.
Dr. Ako is very established in the veterinary community and has had many affiliations throughout his career with notable veterinary societies and foundations such as The Honolulu Zoological Society and The Honolulu Veterinary Society. He is currently the vice president of the Hawaii Veterinary Medical Association and is the vice chair of the board of directors at the Hawaiian Humane Society. He was also a founding father of the Windward Community College Veterinary Technician program, in which a number of technicians have graduated from.
Dr. Ako joined our team on February 1, 2019 and has been a valued team member since.
To schedule an appointment with him or any one of our fabulous veterinarians, please inquire at the front desk.
---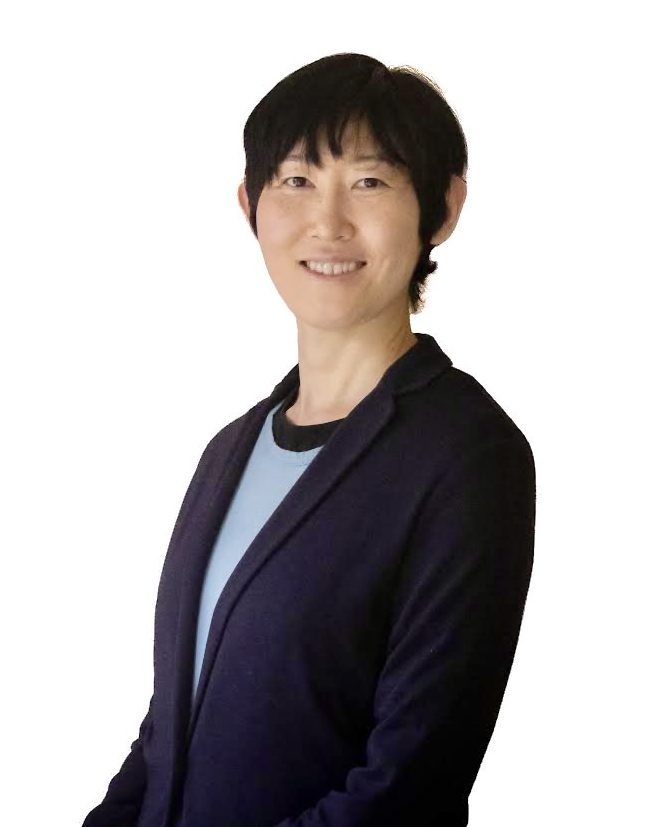 Dr. Satoko Nishimura
Dr. Nishimura is the only board certified veterinary cardiologist on the island of Oahu.
Dr. Nishimura was born and raised in Osaka, Japan. She earned her Doctorate of Veterinary Medicine degree from Atlantic Veterinary College, Canada. This was followed by completion of a Small animal medical and surgical rotating internship at Veterinary Emergency Clinic in Toronto, Canada.
Dr. Nishimura completed her three-year residency program in Veterinary Cardiology at The University of California, Davis in 2018. She was awarded the Best Resident Award by the UC Davis students in 2017 and 2018.
Prior to founding her company, Hawaii Veterinary Cardiac Care in 2021, Dr. Nishimura practiced as a Veterinary Cardiologist in a specialty veterinary hospital in Honolulu, as well as assisting the Cardiology department for the University of Guelph and the University of California, Davis.  She sees patients at Hawaii Kai Vet Clinic twice a month by referral.
Dr. Nishimura is also a De Facto member of Asian College of Veterinary Internal Medicine (AiCVIM). Being fluent in the Japanese language she has had the opportunity to present continuing education lectures in many conferences in Japan.
During her spare time, Dr. Nishimura enjoys spending time with her family, traveling, and gardening. Dr. Nishimura and her husband are proud parents of a son, three cats and four chickens. The whole family loves to take in the beautiful Hawaii nature and enjoy watching birds, lizards and insects in their backyard.
Dr. Nishimura is excited to work closely with referring veterinarians to provide the best cardiac care to their patients.
---
Dr. Kirsten Jensen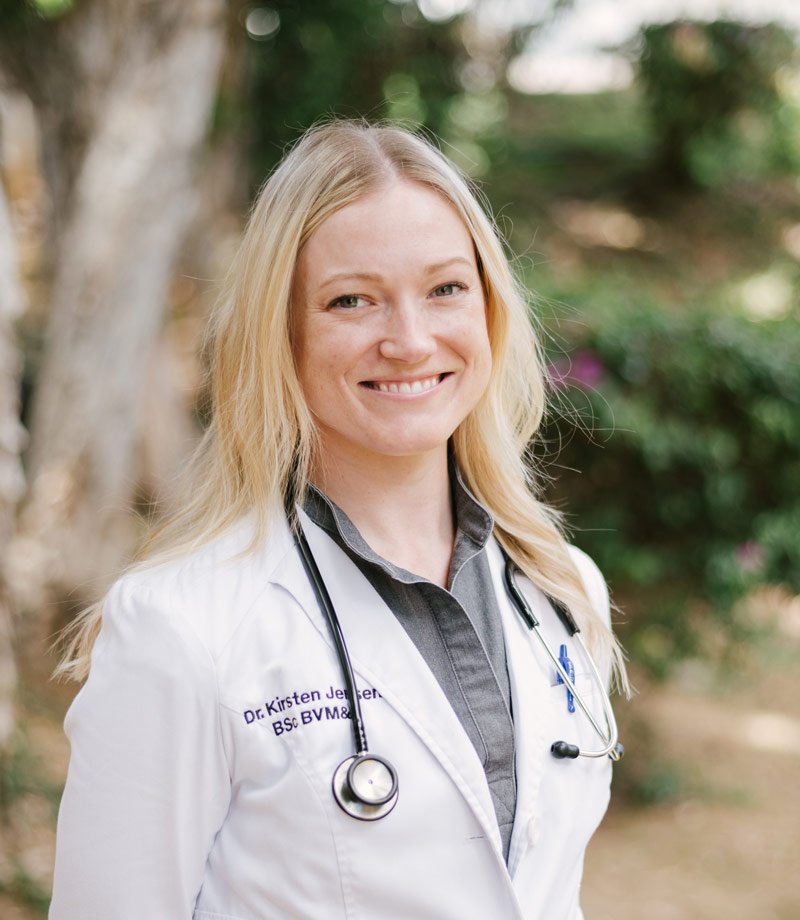 Dr. Jensen was born and raised in Minnesota, and attended the University of Minnesota for her undergraduate degree in Animal Science. Having enjoyed the experience of studying abroad in Australia during her undergraduate degree, she applied to international schools for Veterinary programs, and was accepted to the University of Edinburgh in Scotland. After 4 years of studying, she graduated with her Veterinary degree in 2012 and accepted a 1-year internship program at a specialty and emergency center in Glasgow Scotland for additional training. She then returned home to the U.S. to transition to general practice.
After several years in San Francisco, she finally moved to Hawaii to put down roots and practice veterinary medicine in paradise. Her interests include dermatology, dentistry, behavior, and proactive preventative care. She has additional training with "Low Stress Handling Silver Certification" in addition to certification in "Fear Free" practice.
Her hobbies outside of the clinic include Pokemon Go, trail running, hiking, strength training, binge-watching star trek series, and tennis. She shares her home with her 2 cat overlords, "Bonnie & Clyde" who she enjoys spoiling with the latest in cat toys and accessories.